The History of Stone Veneer: Roman Empire to Modern Wonders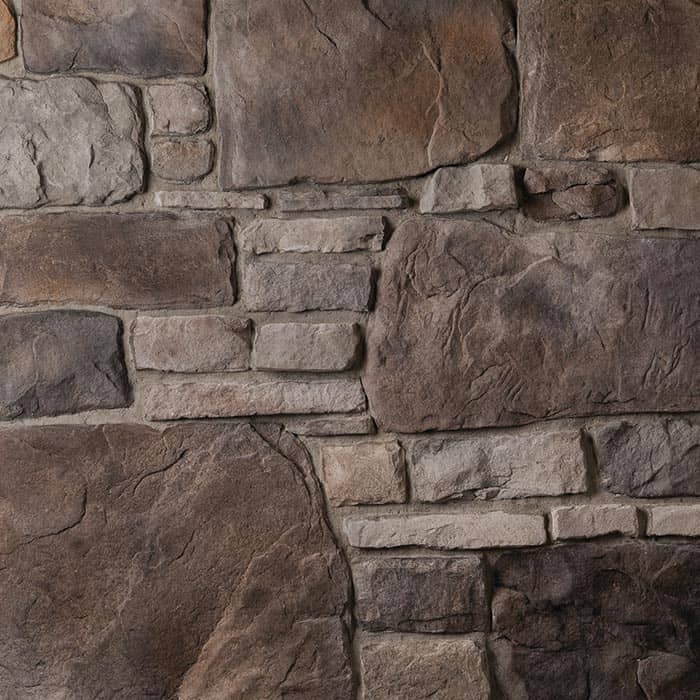 Some of the hottest home design trends for 2023 feature manufactured stone veneer in both interior and exterior spaces. This current popularity might lead you to believe that stone veneer products are a recent invention. But they're not!
Stone veneer manufacturing got its start decades ago — but the history of stone as a building material stretches back much further than that.
As a leading quality stone veneer manufacturer since 2005, Casa di Sassi has deep knowledge of our industry's history. Our rock-hunting pros are also total book nerds, so we love any opportunity to enlighten others about the manufactured stone veneer origin story and the evolution of rocks and stones as fodder for creating safe, durable, beautiful living spaces.
We put together this concise history of stone through the ages to answer frequently asked questions like:
Where does the history of stone houses begin?
What is stone veneer?
How did stones evolve into natural thin veneers and manufactured stone veneers?
How is stone veneer made?
Is stone veneer manufacturing eco-friendly?
Let's dig into some answers! Then we'll help you determine which stone veneer profiles match your home's aesthetics and your personal tastes.
WHAT IS MANUFACTURED STONE VENEER?
Manufactured stone veneer is a lightweight yet durable and flexible product that mimics the nuanced colors and varied textures of stones found in nature. Though it is strictly decorative, it can be mounted onto a variety of structural surfaces, including drywall and poured cement. Top-quality stone veneer from Casa di Sassi is made from a combination of cement and lightweight aggregate materials with mineral oxides added for color. When it comes to deciding where to install stone veneers, the possibilities are nearly limitless.
A BRIEF HISTORY OF STONE IN ARCHITECTURE
There is a good reason why aesthetic styles that range from modern minimalism to rustic Americana to classic Italian architecture and stone veneer products go together so well: the deep history of stone as a first-choice building material.
Let's take a look at where this human-rock affinity comes from and how it continues to drive innovation and creativity in interior and exterior design.
THE LONG, LONG HISTORY OF STONE HOUSES
Humans have used stones as tools and building materials for millennia. It seems that almost as soon as we could walk upright, we started using rocks to start fires, hone weapons and process food. Researchers believe the history of stone structures made by humans goes back thousands of years, including temples and enigmatic constructions like Stonehenge. They've found bricks made of dried mud that are more than 9,000 years old. Houses made of stone offered reliable safety from predators and the elements like nothing else, and they may have facilitated the first cities that have been unearthed in the Middle East and dated to some 6,500 years ago.
The look of stone remains popular in modern times, even though stones are incredibly heavy and costly to transport. In fact, the cost differences between natural stone, bricks and stone veneers allow modern-day homeowners to achieve a historic look without wrecking their budgets.
SLICED NATURAL STONE
The Coliseum in Rome is instantly recognizable as an amazing achievement of mankind. You may be surprised to learn that the structure was originally covered in thin-cut marble veneers that eroded off over time. That's the earliest known use of sliced natural stone as a decorative building embellishment. Fast-forward to the 19th century, and we again see clever manufacturers slicing stones into thick slabs that weigh about half what full-size stones do, making these thin-bed veneers more practical for creating the illusion of a stone house. But the labor involved in their production and transport, plus the skill required to install them, keeps their price tag out of reach for many homeowners.
INTRODUCTION OF CEMENT
In 1962, seasoned plasterers and brothers Gordon and Floyd Brown were looking for a less cumbersome material to bring the look of stones to their California construction projects. They got the idea to mix cement with aggregate substances to keep it lightweight and iron oxide pigments to resemble the colorings of natural stone. They poured the mixture into molds and voila! Manufactured stone veneer was born! It weighed in at about a quarter of the heft of real stones, making it much easier to transport and install on vertical surfaces. The stone veneer manufacturing process at Casa di Sassi today remains strikingly similar to that of the Brown brothers, though we're continually tweaking our recipe and honing our artistic abilities to replicate Mother Nature. We also do everything we can to limit waste, conserve energy and reduce the carbon footprint of our production facility to maintain the lower environmental impact of manufactured stone veneer when compared to quarrying natural stones.
"FAUX STONE" IMPOSTORS
As this new kind of stone veneer became more and more popular, some manufacturers started taking shortcuts. They wanted to save money and speed up the artisanal process by using synthetic fillers like foam, plastic or fiberglass in their "faux stone" products. Though tempting for their lower price tags, these imposters are not as durable as manufactured stone veneers, nor do they deliver a natural look. That makes the veneer's makeup one of the most important things to look for in a quality stone manufacturer to ensure you're getting the most value for your investment.
STONE VENEER MANUFACTURING TODAY: PROFILES OF NATURE
Thanks to the talented artisans at Casa di Sassi and the pricing advantage of manufactured stone veneer over natural stones, it's easier than ever to bring the historic beauty and luxurious feel of top-quality stone veneer to your home. Check out our range of stone veneer profiles to find the perfect match for your home's architectural style or your interior design tastes.
RUSTIC AND OLD WORLD LOOKS
Whether you're looking to create an authentic farmhouse look in your kitchen or wondering how to landscape with stone veneer for a more natural effect, our rustic profiles are a great choice.
Barnstone
Tool markings and etchings call to mind the history of stone in colonial times while symmetrical spacing and warm hues create a timelessly rugged look.
Country Rubble
Hand-picked stones of irregular sizes and shapes fit together seamlessly, as if a skilled mason from times gone by constructed this veneer with weather-worn hands. It comes in three distinct hues to complement nearly any interior or exterior design scheme.
Ledgestone
Combining mortarless style with a rough dimensional surface, this profile represents the perfect balance of Old World character and contemporary sensibilities. The option of more than half a dozen colors means this stone veneer can skew bold, neutral or understated.
Fieldstone
This profile was inspired by the stones our rock hunters found in the highlands of New England. It delivers rich, rugged texture on irregularly shaped stones with tight grout lines for a handsome, earthy effect.
Limestone
The look of roughly quarried stones comes alive in warm, nature-inspired colors. Rectangular and square shapes work seamlessly together to evoke the historic look of 18th- and 19th-century homes throughout the Western Reserve of Ohio.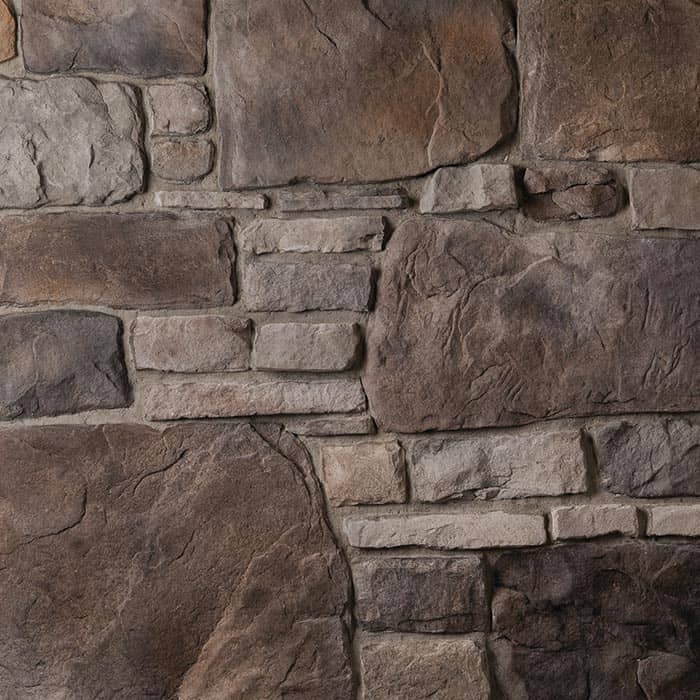 Old World
We based this profile on hand-chiseled foundation stones salvaged from a local 19th-century structure that our rock hunters fell in love with. We offer it in five hues that range from crisp Niveo to moody Grigio. The pairing of oversized stones with small pieces to fill in the gaps creates an authentic and majestic look.
MODERN MINIMALISM AND MORE
One of the many benefits of hiring professional stone veneer installers is their counsel on achieving the style you crave. Many of our profiles dovetail with a contemporary sense of minimalism or a transitional design that bridges traditional and modern styles. A seasoned professional can help you design and implement a thoroughly modern stone veneer project with these stone veneer types.
Brick
Evenly spaced and symmetrical pieces recreate the timeless look of brick masonry work in this profile. Choose it to complement vertical siding on a contemporary house's exterior or pair it with mid century modern furniture in the den.
EZ Ledge
Face clefts inspired by cliffs in the eastern and western United States add drama to the symmetrical lines of this profile. It's available in four colors, so it works in a modern monochromatic kitchen, a vintage-inspired master suite or a sleekly contemporary living area.
Granite
The timeless beauty of cut stones paired with warm, neutral hues makes this profile a natural choice for transitional interiors. Its classic symmetry creates stately drama as a bold façade or entryway accent.
Kwik Stack
The dry-stack look of this profile is a perfect match for mid century modern designs, both inside and outside the home. Choose the Carbone hue for deep drama, Matera for warm neutrality or Niveo for a crisp contemporary feel.
Blends
Just as transitional décor blends traditional and contemporary furnishings, this profile marries rustic shapes with uniquely modern patterns. The result is warm authenticity in six color choices to complement indoor and outdoor projects of any scope.
Volterra
Elevate a modern farmhouse or industrial-chic design scheme with this wildly elegant profile. Rectangular shapes of varying sizes are rough hewn to highlight rugged textures and unique bed faces. The Turin hue makes a bold, modern statement while Terracina warms up a neutral palette, and Niveo delivers a crisp and clean contemporary look.
Yorkshire
Our newest profile combines clean lines, rugged texture and neutral tones for a subtle yet sumptuous effect. It brings a modern sense of luxury to an outdoor entertainment area, master bath tub surround or kitchen backsplash.
ACCESSORIES AND FINISHING TOUCHES
No stone veneer project is complete without a few manufactured stone accessories. From keystones and trim pieces to wall caps and hearthstones to mantels and utility box covers, our accessories feature the same craftsmanship, durability and attention to detail as our stone veneer profiles. Get the seamless, high-end look you crave with these beautifully crafted and finely functional accessories.
QUALITY STONE VENEER FROM CASA DI SASSI
Would you like to know the secret for how to buy stone veneer without regret? Choose a stone veneer manufacturer with a wealth of experience and a broad network of reliable distributors who also offers a generous 50-year transferable warranty. Casa di Sassi fits the bill with a long history of stone making cemented in Old World craftsmanship and modern-day integrity.
As we look to the future, we continually seek to innovate and grow. From pushing the limits on our creativity to developing new stone profile designs – to increasing the efficiency of our manufacturing processes – our team is dedicated to being a valuable stone veneer partner.
How a Stone Kitchen Backsplash Elevates Your Home Looking for a fresh take on traditional stone kitchen backsplash ideas? Wondering if a manufactured stone veneer backsplash is a solid investment? Not sure how to bring your vision of a unique yet functional backsplash...