Yorkshire: Modern Stone Veneer Style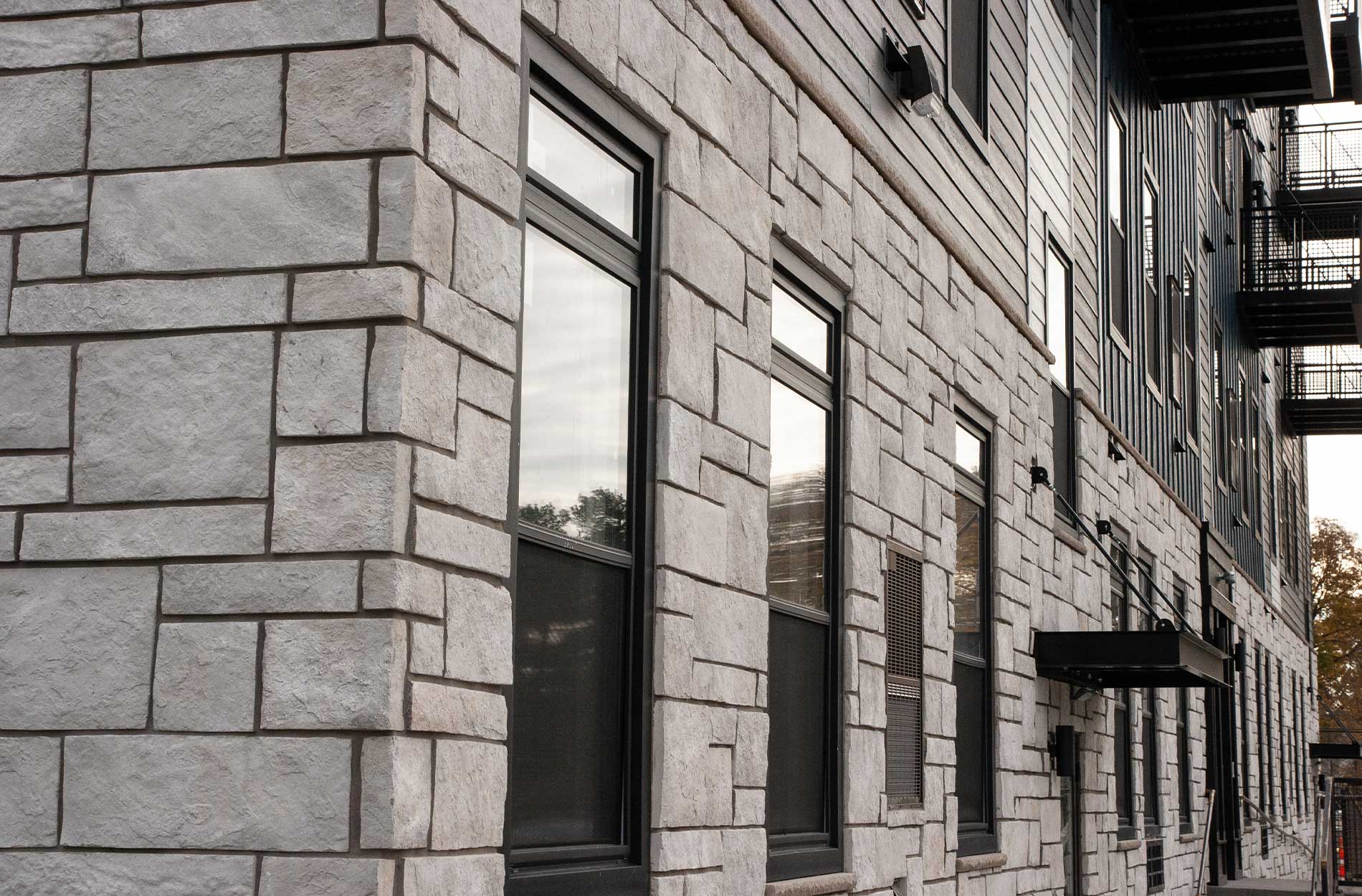 Looking for stone veneer ideas that bring timeless style into your modern aesthetic? Love the simplicity of white natural stone veneer but hoping for a lightweight alternative that can achieve your sweeping, Insta-worthy décor plans? Wondering whether top-quality stone veneer is worth the investment for your reno project?
Let us introduce you to our Yorkshire stone profile, the latest addition to Casa di Sassi's collection of durable, natural-looking, handcrafted manufactured stone veneer choices. This versatile and modern stone veneer option delivers subtle yet sophisticated texture in neutral tones that complement nearly any home style.
Yorkshire represents a balanced and beautiful combination of the three best features of manufactured stone veneer: texture, color and inspiration! Read on to see how this crisp and clean white stone veneer can elevate your home's interior and exterior living spaces with a cool, contemporary vibe.
THE YORKSHIRE STONE VENEER PROFILE
The skilled and talented team of Casa di Sassi artisans have honed an exceptional stone veneer mold design process through the years. They developed the Yorkshire profile much as they did our entire family of stone veneer styles — starting with rock hunts in the wild. Our designers have been known to pull over on the side of the road when they spy an eye-catching rock formation or unusual bit of architecture. By examining these specimens, taking photos, making drawings and even bringing rocks back to our facility, they begin to envision stone veneer ideas that play off the shapes, colors and textures of natural stones or historic building materials.
So, what is Yorkshire inspired by? Maybe it was a white limestone cliff or a brilliant Georgian mansion or a bed of reflective pebbles beneath a mountain stream. Perhaps it was feedback from a customer who thought current home trends could use a breath of fresh air! Whatever the specific muse was, it drove our team to begin experimenting with handcrafted rubber stone molds, trying various combinations of stone sizes and arrangements until they hit on the most pleasing, balanced design.
The Yorkshire stone veneer profile delivers:
Clean lines and a crisp color with sophisticated yet subtle texture
A neutral accent for nearly any color scheme, from warm browns to cool grays to vibrant hues to monochromatic palettes
The versatility to complement any décor style, from traditional to vintage-inspired to transitional to mid century modern to contemporary
IDEAS TO INCORPORATE YORKSHIRE IN YOUR HOME
We often talk about offering stone veneer types for every aesthetic — and Yorkshire puts concrete evidence behind that claim! Its simplicity and versatility make it a great choice for many indoor and outdoor projects. Check out a few of our fave Yorkshire stone veneer ideas that we put together to spark your imagination.
YORKSHIRE STONE VENEER IDEAS: INTERIOR DESIGN
Want to refresh your home's indoor spaces — but not sure your budget can accommodate your big stone dreams? Thanks to the manufactured stone veneer pricing advantage, you'll be pleasantly surprised at how far your reno dollars can go in creating a stunning Yorkshire feature in your home. Consider these Yorkshire stone veneer ideas for elevating your interior design aspirations:
Modern Accent Wall
Whether it's in the foyer, the den or the master suite, a floor-to-ceiling accent wall of modern stone veneer adds sumptuous beauty and tactile texture to your home. And the Sombre hue of Yorkshire evokes a cool tone that's neutral, which takes the guesswork out of choosing stone veneer colors for your home's design. An accent wall in this white stone veneer with hints of gray transforms the master bath into an at-home spa when paired with a freestanding soaker tub.
Fireplace Refresh
Do you love the warmth and coziness of a fireplace but hate the heavy, outdated look of yours? One of the quickest and easiest ways of keeping your fireplace modern is to refresh it with a light, bright, white stone veneer facelift. Yorkshire is a great choice because its timeless design complements so many contemporary home elements — like an airy open floor plan and monochromatic color schemes — without fear of it becoming dated too quickly.
Not-So-Basic Backsplash
We love subway tile as much as the next designer, but it's beginning to feel a little too much like an automatic choice. Break away from the expected without getting too crazy by opting for Yorkshire stone veneer on your kitchen backsplash. The neutral color looks fab with countertops of nearly any type, from veiny marble or granite to quartz, concrete and butcher block options. Plus, the clean lines of Yorkshire resemble tile but with the added visual interest of varying stone sizes.
YORKSHIRE STONE VENEER IDEAS: EXTERIOR PROJECTS
Take the sleek sophistication of Yorkshire stone veneer outside! We love exterior applications for Casa di Sassi profiles, but it pays to consider modern stone veneer durability and climate conditions like heavy rainfall or coastal winds. Proper installation is key to achieving long-lasting beauty in your outdoor project.
Fresh Façade
Upgrade your home's curb appeal with a fresh façade of Yorkshire stone siding. All-white homes have been the most popular choice for decades, and opting for this timeless yet trendy look is one of the coolest stone veneer design ideas for your home exterior! Cover the entire front of your home for modern simplicity or pair Yorkshire with similarly hued wood shingles, board and batten, or exposed wood beams for a sweet mixed-materials effect.
Upgraded Garden
Not sure if or how to landscape with stone veneer? We get you. Complement elegant pavers or stone walkways by placing white stone veneer on vertical spaces around them. Allow columns clad in Yorkshire to rise above your garden beds for a stunning visual effect. Transform sturdy yet unbeautiful retaining walls into a gorgeous garden focal point with Yorkshire stone's sophisticated style. This profile looks even sharper when you complete the look with Casa di Sassi stone wall caps that help protect against the elements while delivering an elegant finishing touch.
Elevated Outdoor Living
From a cozy fire pit to a freestanding pizza oven to a full outdoor kitchen, alfresco living spaces inspire some of the most sumptuous stone veneer ideas we've ever seen — but it's important to understand where to install stone veneer and where to avoid for years of worry-free enjoyment. Transform your covered patio, deck or terrace into an entertainment hotspot by adding Yorkshire stone to the design plan. The pale hue offers an elegant feel and excellent contrast to surrounding greenery that make every gathering a little more special.
NATURAL AND MODERN STONE VENEER TYPES FROM CASA DI SASSI
Ready to add cool, contemporary Yorkshire stone veneer style to your home? Explore the benefits of professional stone installation — like lower risks of damage to your property and higher odds of a perfect outcome — then contact us to get started making your own modern stone veneer ideas a reality with Casa di Sassi!
As we look to the future, we continually seek to innovate and grow. From pushing the limits on our creativity to developing new stone profile designs – to increasing the efficiency of our manufacturing processes – our team is dedicated to being a valuable stone veneer partner.
How a Stone Kitchen Backsplash Elevates Your Home Looking for a fresh take on traditional stone kitchen backsplash ideas? Wondering if a manufactured stone veneer backsplash is a solid investment? Not sure how to bring your vision of a unique yet functional backsplash...